Prices

"NEW ITEMS"
Pop Corn Machine.........$ 50.00 *
Cotton Candy Machine...$ 50.00 *
Sno-Cone Machine........ $ 40.00 *
* Plus Supplies
Hot Dog Rollers.............$ 25.00
Lemonade Makers.........$ 20.00


2003 Pricing* • Pole Tents
20x20 .....................$125.00
20x30 .....................$160.00
30x30 .....................$250.00
20x40 .....................$190.00
30x40 .....................$275.00
30x60 .....................$365.00
40x40 .....................$440.00
40x60 .....................$550.00
40x80 .....................$675.00
40x100......................$799.00
Larger Tents Available..Call for prices..
*Prices may vary upon set up destination

Pole tents are recommended for set up on areas where staking down tents are not a problem. Pole require two stakes on each corner and a stake at every side pole. Our tents come in various colors along with all white tents.

2003 Pricing* • Frame Tents
10x10.........................$ 90.00
10x20.........................$ 150.00
10x30.........................$ 190.00
15x15.........................$ 120.00
15x30.........................$ 160.00
15x45.........................$ 220.00
20x20.........................$ 150.00
20x30.........................$ 190.00
20x40.........................$ 225.00
20x50.........................$ 270.00
20x60.........................$ 325.00
20x80.........................$ 425.00
30x30.........................$ 350.00
30x45.........................$ 475.00
30x60.........................$ 600.00
30x75.........................$ 725.00
*Prices may vary upon set up destination
Tables And Chairs
30 x 96 Banquet Tables..... $ 6.00
60" Round tables............... $ 7.00
Folding Chairs ...................$ .60
White Chairs .....................$ 1.10

Accessories
Side Flaps.......$ 1.00 per foot
With French Windows $ 1.50 per foot
Beverage Coolers. ............... $ 10.00
Heaters................... $ 65.00 + propane
Dance Floors...........$ 16.00 per 4x4 area
Jump House.............$ 150.00 Per Day
We Drop Off, Set Up, And Pick Up
Tag-A-Long Cooler...$ 295.00 per event
(max weekend)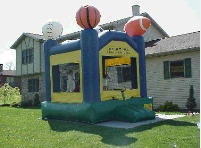 I would like to thank you for considering Main Street Tent Rentals for your
very special event. We use all Eureka Brand Tents...Please inquire about
discounts on multiple tents for large events such as Church Picnics, Fund
Raisers, and Fairs.
Main Street Tent Rentals is a family run business located Scranton, Pa. We
have been in business for 13 years and are the only tent rental business
located in Scranton. We have tents of all sizes and styles, along with tables
and chairs to help serve your needs.
SET UP AND TAKE DOWN
Main Street Tent Rentals will set up and take down your tents. We will do our
best to serve you and your party plans at your convenience. If you are not
sure of what size tent will serve your needs, feel free to give us a call
and we will be glad to send one of our representatives out to check and
measure your site for free.




Use your browsers back button to get to the previous page or go back to www.GotTents.com

LINKS
(For Apartments & more, visit)

www.ScrantonLink.com
Scranton's Premier
Online Classifieds